60 Seconds!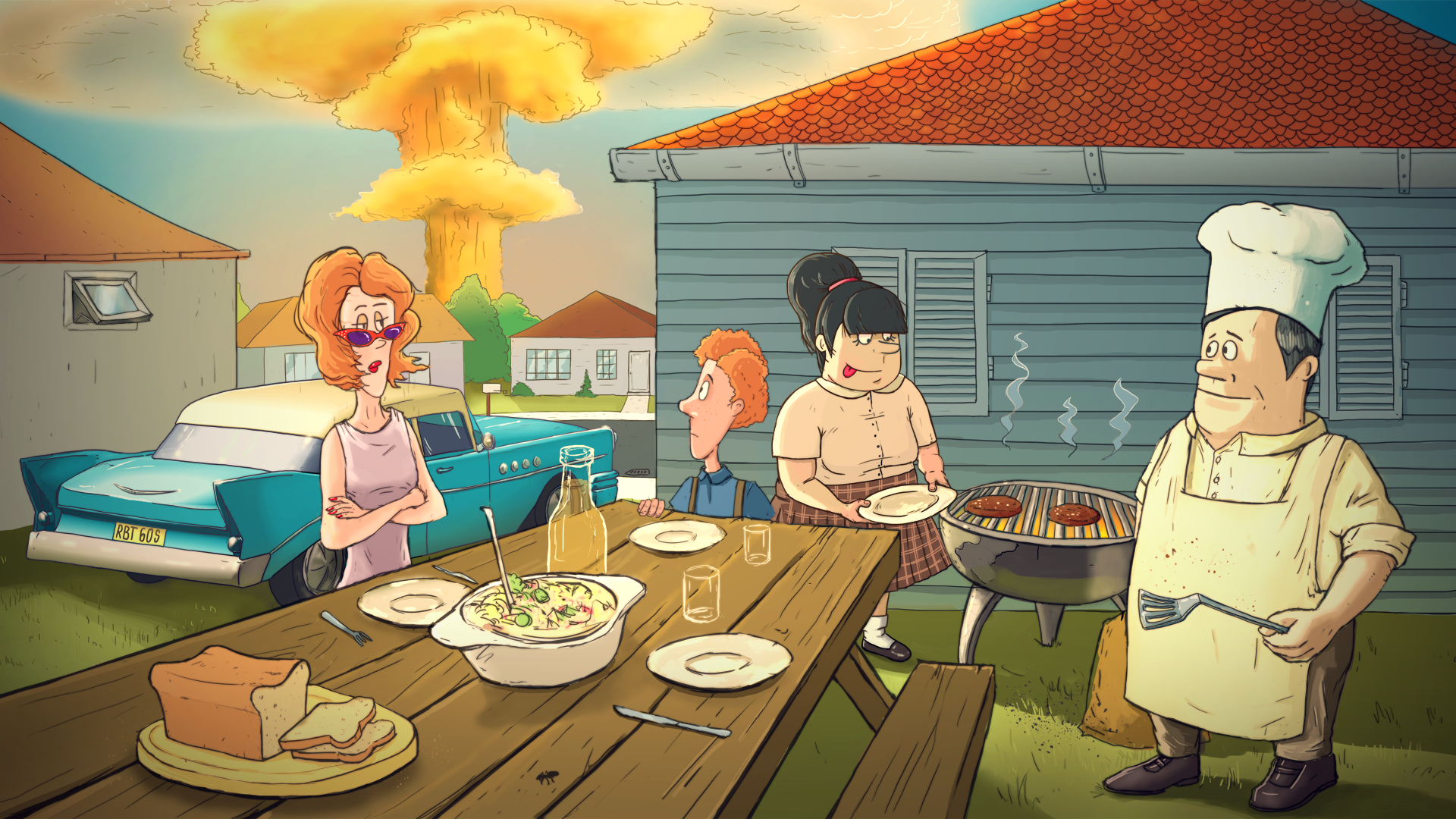 Description
60 Seconds! is a dark comedy atomic adventure of scavenge and survival. Collect supplies and rescue your family before the nuke hits. Stay alive in your fallout shelter. Make difficult decisions, ration food and hunt mutant cockroaches. And maybe survive. Or not.
Features
EXPERIENCE
the suburbian nightmare of a nuke dropping down on your neighbourhood in this atomic, dark comedy set in 1950s.
SCAVENGE
any supplies, you will need to survive, and family members in a 60 second rush through your procedurally generated house.
PREPARE
for the worst. Don't just grab arbitrary items, plan your survival and follow helpful tips from emergency broadcasts!
SURVIVE
in a fallout shelter with whatever you brought with you. How many days will you last? Will everyone make it out alive?
DECIDE
what to do, when the post-apocalyptic world pushes you to the corner. Will you risk going outside? Who is not eating dinner, when barely any food is left? How do you deal with a mutant cockroach infestation?
Awards & Recognition
IndieCade Festival Official Selection, Finalist 2015 IndieCade
Indie Prize Singapore - Official Showcase and Nominee, 2017 Indie Prize Singapore
Selected Quotes
"Equal parts funny and distressing, 60 Seconds lets you tackle the end of the world your way"
Matt Suckley, Pocket Gamer
"This family degeneration simulator presents terrible scenarios in a way that is difficult to not laugh at."
Chris Shive, Hardcore Gamer
"Fallout Fun."
Tom Christiansen, Epic Brew
"It's a cheery apocalypse!"
AJ Small, GameCritics.com
Additional Information
Monetization and streaming permission
Robot Gentleman consents to the use of video materials captured from our games for the purposes of producing your own videos focused on those games, such as previews, reviews, let's play videos or other gameplay based videos, to be published on your Youtube channel or streaming services. You are free to monetize such videos.We do not consent to the use of individual assets from our games, such as audio, images or other elements taken out of the game's context for the purposes of producing your own videos that do not focus on our games. However, if you are producing a video that either focuses on one of our games or concentrates on a wider phenomenon (for instance, discussing different games of a specific genre) and our game or studio is one of the topics of that discussion, you are free to use individual assets and monetize such videos, but you need to clearly identify and credit such assets in the video itself or in the video's description.For all videos concerning our games, please include a link to official websites of discussed games in the video itself or in the video's description.Use of Robot Gentleman logo and other studio specific assets of any kind is only allowed in videos that are produced in direct context to our games, unless a separate, individual consent is given.
About Robot Gentleman
Boilerplate
Robot Gentleman is the independent games developer, known for the atomic dark comedy adventures 60 Seconds! and 60 Parsecs!. If you've ever seen a robot in a top hat, that's probably one of ours! We are a joyful ensemble of developers who are keen on experimentation. Storytelling experimentation, that is! Captivating stories, bending design ideas and crossing boundaries is what we are after in our titles. Originally coming from both game development and filmmaking backgrounds, we've been fostering our robot culture to create the games we want the way we like, while also actively engaging with the global gamedev community and supporting the local indie scene in our home city of Poznań, Poland.
More information
More information on Robot Gentleman, our logo & relevant media is available here.
Release Credits
Programming, Design, Writing & Production
Dominik Gotojuch
Art Direction, 2D Art, Design & Writing
Juliusz Zenkner
Design, Writing & Testing
Berenika Gotojuch
3D Art & Animations
Karena Michalska
Additional 3D Animations
Piotr Zając & Mikołaj Krawcow
Music
Michał Ratkowski
Sound Design
Paweł Cincio
Additional Sound Design
freesfx.co.uk
Writing & Review
James Hudson
Doodle Art
Sophie Burie
Production, Design & Additional Programming
Franciszek Szych
Testing
Shaïri Pringels & Marcin Charlicki & Mateusz Węglarz & Tadeusz Chmiel & Piotr Suchodolski & Kacper Fertacz & Piotr Kołakowski & Tomasz Wachnik & Mateusz Reszka & Piotr Jażdżyk & Wojciech Rogowski & Piotr Hamrol
Special Thanks
Karolina Krawczyk & Anastazja Kulińska & Jakub Marszałkowski & Robert Podgórski & Roderick Murray-Smith