60 Parsecs!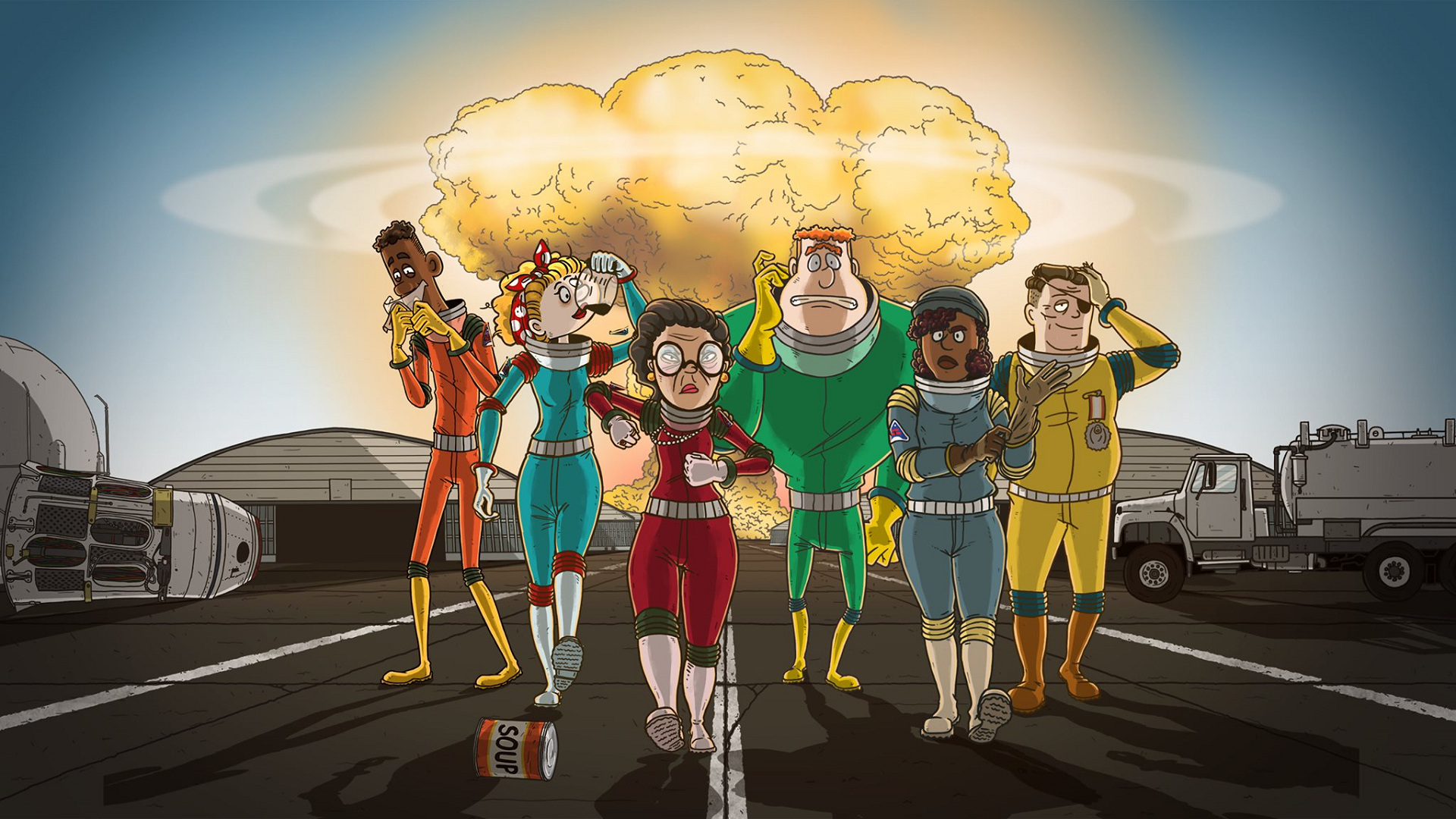 Description
60 Parsecs! is an Atomic Space Age adventure of scavenge and survival. Keep your crew alive and ready for action. Make difficult choices, face soup shortages and other horrors of outer space. And maybe reach your destination. Or not.
Features
SCAVENGE & EVACUATE
With only 60 seconds before nukes reduce the space station to floating particles in the vacuum of space, frantically grab whatever supplies and crew you can before getting out of there. You never know when that sock puppet will come in handy.
SURVIVE & DECIDE
Space funerals are inconvenient, so try to avoid dying where possible. Use your limited supplies and (hopefully not limited) wits to make difficult choices and ensure your survival, even though the odds are definitely stacked against you.
EXPLORE & CRAFT
Duct tape fixes all problems, but how do you fix (or at least craft) duct tape? Chart expeditions to find resources, craft survival essentials and explore strange new worlds in a procedural, very-much-permadeath adventure.
LEAD & PROTECT
As captain, it's your duty to keep the crew happy - they're less likely to kill you that way. Manage relationships as you watch them grow closer and hopefully not throw each other out the airlock.
Awards & Recognition
Official Showcase at PAX West 2018 Indie MEGABOOTH
Official Showcase and Nominee 2019 SWSX Gaming
Official Showcase and Nominee 2019 Indie Prize London
Official Showcase and Nominee 2019 Indie Prize USA
Indie Games Festival 2020 Top 10
Selected Quotes
"If you want a space-themed survival comedy that can easily pass the time, then do yourself a favor and get 60 Parsecs!"
Ryan Taylor, The Xbox Hub
"I simply wanted more soup."
Patrick Rost, Gaming Trend
"It definitely feels like Robot Gentleman evolved their approach for this sequel, and there's a level of confidence in the approach in 60 Parsecs! that elevates the experience over its predecessor."
Jack Moulder, Game Chronicles
"60 Parsecs Excels in its Comedy and Simplicity."
Julian Ramirez, 3CR
Additional Information
Monetization and streaming permission
Robot Gentleman consents to the use of video materials captured from our games for the purposes of producing your own videos focused on those games, such as previews, reviews, let's play videos or other gameplay based videos, to be published on your Youtube channel or streaming services. You are free to monetize such videos.We do not consent to the use of individual assets from our games, such as audio, images or other elements taken out of the game's context for the purposes of producing your own videos that do not focus on our games. However, if you are producing a video that either focuses on one of our games or concentrates on a wider phenomenon (for instance, discussing different games of a specific genre) and our game or studio is one of the topics of that discussion, you are free to use individual assets and monetize such videos, but you need to clearly identify and credit such assets in the video itself or in the video's description.For all videos concerning our games, please include a link to official websites of discussed games in the video itself or in the video's description.Use of Robot Gentleman logo and other studio specific assets of any kind is only allowed in videos that are produced in direct context to our games, unless a separate, individual consent is given.
About Robot Gentleman
Boilerplate
Robot Gentleman is the independent games developer, known for the atomic dark comedy adventures 60 Seconds! and 60 Parsecs!. If you've ever seen a robot in a top hat, that's probably one of ours! We are a joyful ensemble of developers who are keen on experimentation. Storytelling experimentation, that is! Captivating stories, bending design ideas and crossing boundaries is what we are after in our titles. Originally coming from both game development and filmmaking backgrounds, we've been fostering our robot culture to create the games we want the way we like, while also actively engaging with the global gamedev community and supporting the local indie scene in our home city of Poznań, Poland.
More information
More information on Robot Gentleman, our logo & relevant media is available here.
Release Credits
ROBOT GENTLEMAN
Directed By
Dominik Gotojuch & Juliusz Zenkner
Lead Game Designer
Radek Smektała
Game Design
Radek Smektała, Dominik Gotojuch, Berenika Gotojuch
Narrative Design
Radek Smektała, Dominik Gotojuch, Berenika Gotojuch, Alex Shedlock, Adam Kennedy
Design Support
Maksymilian Wawrzyniak, Krystian Brych, Przemysław Kasprzak
Lead Writer
Berenika Gotojuch
Writing
Berenika Gotojuch, Dominik Gotojuch, Alex Shedlock, Adam Kennedy, Radek Smektała, Agnieszka Mulak, Krzysztof Zięba
Writing Review
Adam Kennedy & Berenika Gotojuch
Lead Artist
Juliusz Zenkner
Art
Juliusz Zenkner, Agata Bednorz, Mateusz Lewicz
Animation
Mateusz Lewicz, Michał Makowski, Juliusz Zenkner
Additional Art
Marta Duda-Żarczyńska, Krzysztof Zdanowski, Mateusz Oźmiński, Michał Kołakowski, Adrianna Galewska
Lead Programmer
Marcin Michalski
Programming
Marcin Michalski, Mateusz Pusty, Krzysztof Lewicki, Dominik Gotojuch
Additional Programmer
Bartosz Maćkowiak
Music
Inon Zur & Arnold Nesis
Sound Designer
Bartosz Maćkowiak
Quality Assurance Lead
Paulina 'Vera' Szmidt
Quality Assurance
Paulina 'Vera' Szmidt, Maksymilian Wawrzyniak, Krystian Brych, Przemysław Kasprzak, Cezary Wróbel, Filip Turczyński
Additional Playtesting
SEKG
Marketing & PR Lead
Anastazja Kulińska
Executive Producer
Trevor Snowden
Production
Juliusz Zenkner, Dominik Gotojuch, Piotr Żygadło, Łukasz 'Squallu' Winkel
Voiceovers
Duffy Weber as Narrator, Juliusz Zenkner as Tom Thomson, Anastazja Kulińska as Maegan Mann, Agata Bednorz as Deedee Dawkins, Bartosz Maćkowiak as Emmet Ellis & Aliens, Filip Antkowiak as Baby Bronco, Paulina Stocka as April Angelle, Łukasz 'Squallu' Winkel as Aliens, Diana Lisiecka as The Petersons
Office Manager
Małgorzata Bronikowska
Business Developer
Vlad Micu
Localization RU, DE, FR, ZH, KO, JP
Altagram Group
Localization PL
Piotr W. Cholewa, Berenika Gotojuch, Dominik Gotojuch, Radek Smektała
Special Thanks
Vader The Dog, Magdalena Gacka, Kacper Fertacz, Irena & Marek Zenkner, Gabirela & Rafał Kłujszo, Dariusz Zenkner, Shaïri Pringels, Dobrochna Gotojuch, Marta Lasowska, Tashi The Dog, Aleksandra Mendyk, Alex & Olivia Snowden, Ewa Żygadło, Psotka, Nitka and Nastia the Cats
MONSTER COUCH
Art
Diana Lisiecka & Marek Rutkowski
Programming
Artur Krystek & Krzysztof Żarczyński
ANSHAR STUDIOS
Producer
Krzysztof Biegański
Additional Art
Dominika Grochowska, Marta Słupska, Aleksander Tutaj